music review - islands in paradise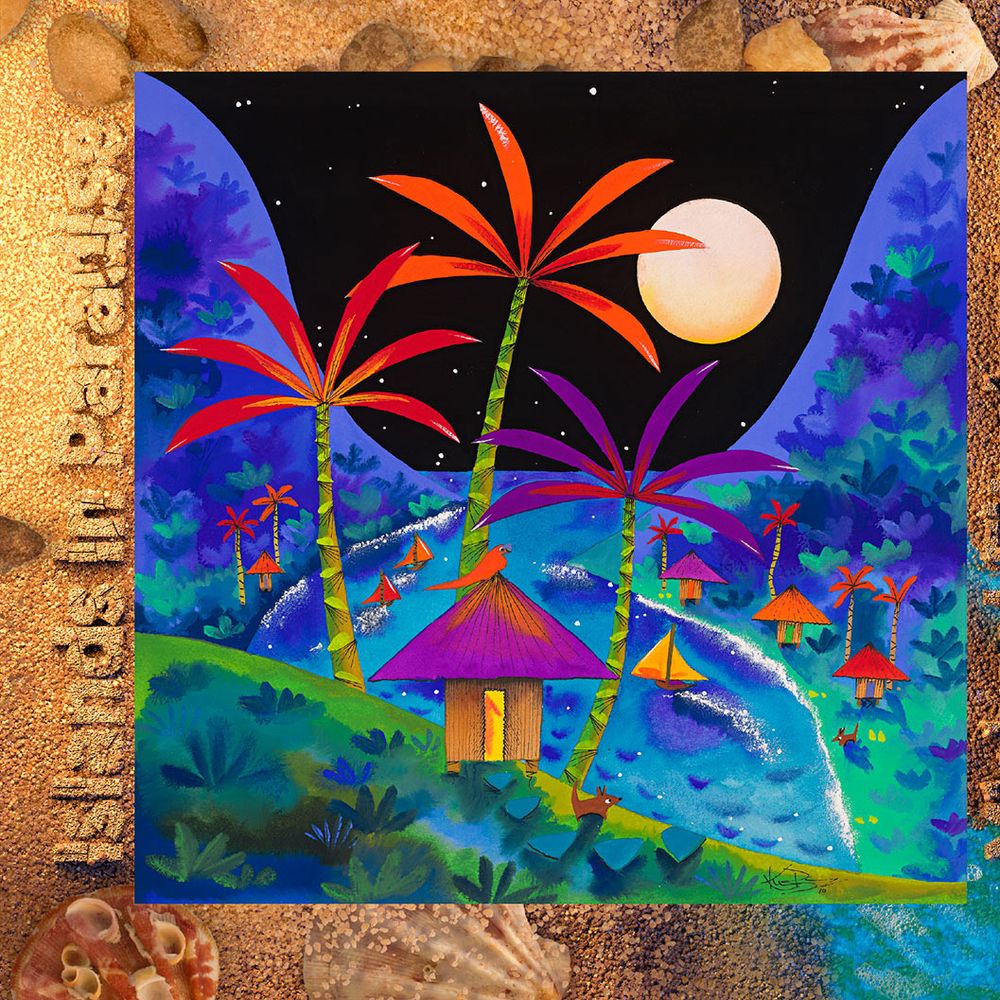 Bill Binkelman
Zone Music Reporter
It's been nine years since drummer/percussionist extraordinaire Michael Fitzsimmons released his superb album, Water Flows Over Me. Sometimes, you just have to wait for the good stuff and exercise some patience. Well, that patience has been rewarded big time with his new album Islands In Paradise. While retaining some of Fitzsimmons' musical feel, the album is a marked departure in one immediately apparent fashion, that being a considerable elevation of tempo and mood. Islands In Paradise is a musical excursion to sun-washed tropical beaches and festive seaside late-night cafes and clubs. The album brims with a jubilant sense of joy, exerting an inexorable pull to surrender to a mood of celebration, fun, and a sensual love of life.
As he has did on Water Flows Over Me (2007), Fitzsimmons has the hang drum (a tuned metal percussion instrument) take center stage many times, but unlike on Water…here he explores the instrument's ability to produce uptempo, cheerful, and danceable rhythms through delightfully exuberant tuned percussive melodies. Besides the hang durm, the artist also plays handpan, which is somewhat similar in nature to the hang, kalimba (African thumb piano), and Latin percussion. Joining Fitzsimmons on the album is Tom Ware who contributes mightily on an assortment of instruments: bass, keyboards, drums, and synthesizer. These two cats sure sound like they had a blast recording this album (well, honestly, after listening to it a few times, how could anyone think they had anything but a great time playing such festive, happy music?). 
Islands In Paradise certainly merits its title as there is an unmistakable tropical musical influence at work. While the hang drum (and kalimba) certainly can sound like a Jamaican steel drum, they actually have their own unique sound if one listens closely (especially when you compare how steel drums are played – with a mallet – whereas the hang is played by slapping it/tapping it with one's hands). It's hard not to envision any of the Caribbean islands when Fitzsimmons and Ware hit their groove and begin to unfurl the funky, sensual, and infectious beats and melodies. Ware uses his synthesizer shadings and textures to great effect, coloring the melodic rhythms with a pleasing undercurrent of subtle melody and ambiance, like a cooling breeze off of the Gulf as the sun sets in the west.
Not every track is an all-out party, but overall, the mood is one of playfulness and unrestrained festivity, beginning with the opening cut, "Earth Sea and Sky." The title track stays in that same fun-filled mood albeit dials things down just a notch. Just when you might want to catch your breath, the next song, "Fire Dancers," erupts with an emphasis on assorted drums and beats and less centered around the hang drum melody (at least to my ears). On this track, the influences cross over more distinctly into Latin/Spanish territory, perhaps even displaying a glimpse of the flamenco genre, as well as some noticeable Cuban stylings as well. "Elysium" slows to a midtempo pace, but the heavy presence of drum rhythms still will likely get into the listener's blood and induce some toe-tapping or finger-rapping. What sounds like a jawbone opens "Celebration," one of the most light-hearted tracks on the album—music for parasailing high above aqua/blue waters on a sunny day. 
If one closes one's eyes and absorbs the ten tracks on Islands In Paradise, I would imagine one might easily envision the sandy beaches, the colorful flora and fauna, and of course the abundant nightlife of St. Lucia, the Caymans, St Kitts, St Maarten, or Barbados, to name just a few of the Caribbean Islands. Let Michael Fitzsimmons guide you on a "virtual" vacation to a land of no worries, lush vegetation, warm days and starlit nights, as you let your stress melt and hair down. It's all good, mon. Have fun and embrace all the joy and happiness that life has to offer in the "Islands."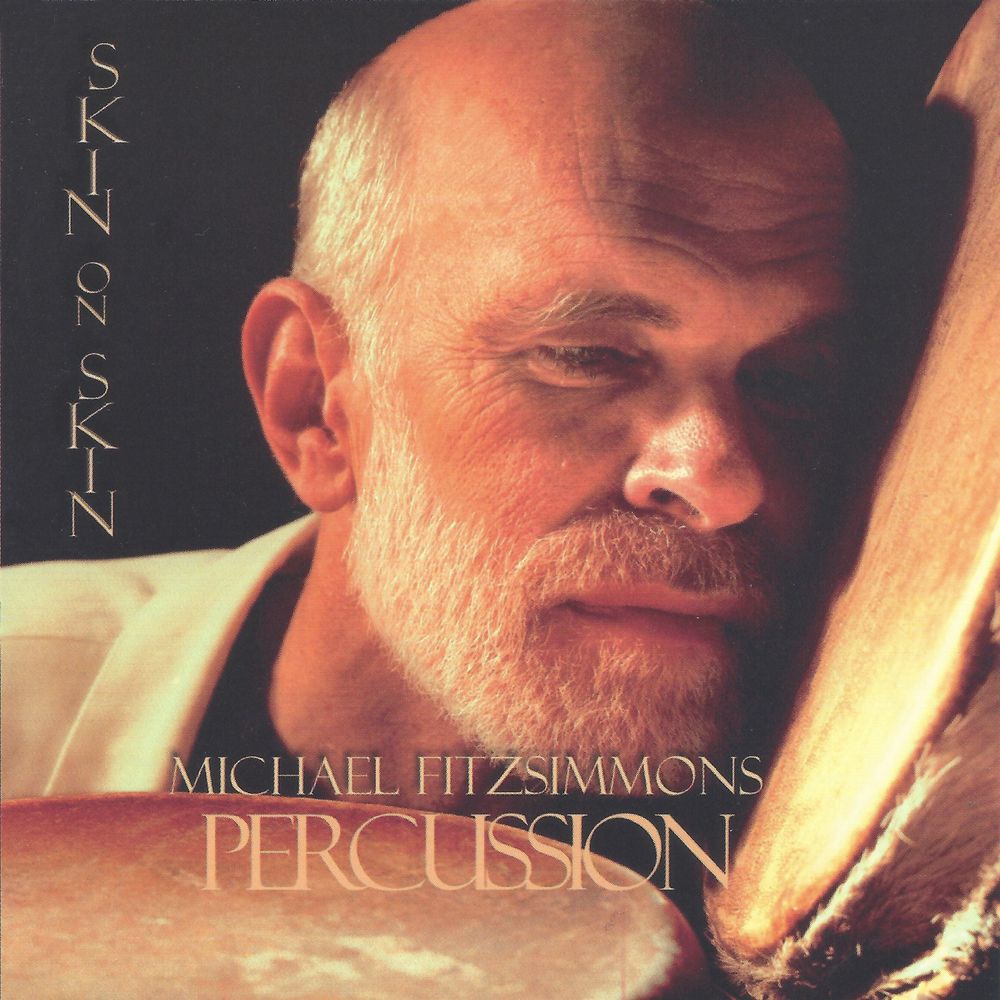 Bill Binkelman
Wind and Wire - REVIEW 2002
If you think an album comprised mostly of various drums, percussion and flutes can't be mystical, haunting and beautiful as well as rhythmic and vibrant, you obviously haven't heard Skin on Sink form master drummer/percussionist/flutist Michael Fitzsimmons.  I always considered Fitzsimmons' Light I the Village to be an overlooked masterpiece.  On this recording, he actually eclipses the aforementioned Light…Skin on Skin is a stunning achievement, especially when you consider that all the instruments (except for one guest-starring appearance on vocals from Susan Guthrie) are played by Fitzsimmons himself.
Here's a brief rundown of what you'll hear on Skin on Skin:  hand drums, logdrums, drum set, kalimbas, Mbiras, ritual rattles, seed pods, bronze bells, dulcimer, Lakota flutes, Brazilian percussion flutes, bamboo flutes, and carved wooden whistles.  There is even a smattering of discrete and judiciously-employed synthesizers (they are positively textbook in how they are used to compliment some songs)
Obviously, if you're a lover of percussion and drums, acquiring this album is a no brainer.  For others, you'll be amazed at how diverse the music on Skin on Skin is.  This is not just some high energy orgasm of rhythms  Fitzsimmons takes the listener on a virtual tour of all manner and types of percussion and does so in a dazzling variety of moods, tempos, and compositional approaches (thanks to his adroit skills with various flutes).
I wish I had the space here to describe each track in detail, because they all deserve it.  However, there are thirteen of them.  The album opens in high-spirited fashion with the aptly-titled "holly Cha Cha," set aflame with pulsing hand drums (sounding like bongos), shakers, and assorted tuned percussion 9so that the various drums have a musical quality to them).  "Moovin'" slows the tempo down and adds the first of many wind instruments, this one being a high-pitched whistle, which fits above the drum set and hand drums like a fluttering bird.  It's fascinating to hear how seamlessly Fitzsimmons has integrated the modern drum kit (snare, tom-toms, brass, wood block) with the more organic sound of ethnic hand drums.  A tropical melodic refrain plays underneath the percussion (this may be the synthesizer) while a wooden flute adds some sparse accompaniment.  "Prayer Drums" moves the music into a subtle Eastern/spiritual (yet still rhythmic) direction, with kalimba, struck bronze bells, bell trees, rattles, and a few other percussion instruments.
"Paradise Found" is the track where Susan Guthrie adds her vocal talents.  The song opens with wind chimes and rainstick, joined by hand drums in a mid-tempo rhythm.  Later, more percussion elements are added, along with some flutes.  The track has a mystical island feel to it – primal and sensual.  The flute wafts lazily in the air in particularly haunting fashion, and when Guthrie's voice is blended in, the song becomes even more exotic and intoxicating.  "Rain Maker" is a sedate slow piece and it's where the dulcimer (a string instrument that is strummed here) is introduced.  The rhythms are stately and the song is one of the more subdued tracks on Skin on Skin.  Following on the heels of that song is another up-tempo cut, "Drumba" on which Fitzsimmons cuts loose on all manner of drums (hand and drum kit) and percussion, unadorned by any wind instruments.
Interestingly, Skin on Skin is not a "loud" recording.  Somehow, even when Fitzsimmons is lighting it up, there is a subtle "feel" to the music.  It's not muted, it's just somehow softened.  When I have heard other drum-based recordings, frequently they wear me out, literally.  I end up suffering ear fatigue, but not with Skin on Skin.  I frequently played this album all the way through with ease.  However Fitzsimmons accomplished this feat, it makes the CD so much more enjoyable.  You can crank the volume up and groove away or, when played at moderate volume, you can just as easily sit and bathe in the assorted rhythms and melodies, in effect taking a mental/aural vacation to far-off lands without leaving your chair.  Either way you play Skin on Skin, you're in for a treat.  This is percussion and drums played by one of the best on the planet – bar none.  Throw in his prodigious flute talents as well and you will understand why this was one of my favorite recordings of 20002.  Skin on Skin merits my highest recommendation.
Testimonials and Past Presenters
Here's what people are saying about the music:
Michael, I got the CD Sunday after church and have almost worn it out. What an incredible stress reliever. I love all the music. Thanks, Phyllis Morris 
Michael, I was getting ready to wrap the last of my christmas presents and I was growing tired of the same Christmas music so I put your CD in and forgot how wonderfully relaxing it is. With the hustle and bustle of the holiday season it is exactly what I needed. You are an amazing musician! Trish Lundberg 
Michael, I instantly became a fan of yours when I heard you on the Coyote Oldman CD, "In Medicine River". I've just posted a link to your website on www.fluteportal.com. I own some of your CDs and look forward to more wonderful music from you. If more people heard your music, perhaps there would be less fighting in the world. Best regards. Fred 
Such pleasant restful sounds! Brings the blood pressure down just listening. Thank you! Mark Goodman, MD
Here's what people are saying about the performances and workshops:
I have taught for over 30 years and yours was the best performance I've seen in my time here. The kids were mesmerized, as was I. Thank you so much for a very enjoyable afternoon. 
Karen, Teacher, Rock Springs, Wyoming 
Hey Michael! It was a treat to see you perform in front of several hundred young folks this morning. It is clear they were all in awe of the spirit in which you guided them along introducing them to many of the instruments you demonstrated and played. It is also clear you are a master musician and a good soul. 
Ward Peters, Omaha, NE 
I really enjoyed your music during the weekend intensive we just had! You have opened my ears to a new and inspiring way to listen. Thank You so very much! 
Tracy King, Student, Universal College of Healing Arts 
I am a student teacher at West Lincoln Elementary and was at the assembly where you played a variety of your instruments. I just wanted to say thank you because the kindergarten students I am with were very excited to be part of the assembly. They enjoyed your music and I saw several tap their hands to the beat! 
Kristine, Teacher, West Lincoln Elementary, Lincoln, NE 
I had so much fun today when you came to the school. It was a blast!!! I never knew that I had all of that in me. Thank you so much for everything...It was amazing!!! 
Roy Paden, Universal College of Healing Arts 
We so enjoyed your performance today at St. Boniface. Thank you for working with our students.  We were amazed at how well they all stayed together! You're very talented. 
Lindy, Teacher, St. Boniface Elementary, Elgin, NE 
I felt very honored by your performance at UCHA today. You are like the Bernie Siegel of rhythm. Namaste 
Shirley, Student, Universal College of Healing Arts 
I saw you perform this afternoon at camp munroe and I was blown away by your performance. Thanks for making such a difference to the campers! 
Nate Hall, Omaha, NE 
Mr. Fitzsimmons, we saw you Sunday at the Joslyn Art Museum and enjoyed all that you shared. You are SO TALENTED!  Thank you! I look forward to seeing and hearing you again! Sincerely, Jennifer Borelli, A is for Art Preschool. 
I really am glad that Paulette was able to get you to come to UCHA because it was a wonderful experience for me as an artist but also as a massage therapist. 
Cassie Bachman, Student, Universal College of Healing Arts, Omaha, NE 
You create miracles with your music!!! 
Julie Hoffman 
We really enjoyed your performance and the interactive time in the courtyard. The grandkids really got into it. Thanks! Wishing you continued success in all that you do. 
Ken & Linda Johnson, Participant at Holland Center for the Arts, Omaha, NE 

Thank you so much for your presentation! It was wonderful to see and hear the various rhythm instruments and learn of their origins. 
Joan O'Dell 

I saw you perform this afternoon at Camp Munroe and I was blown away by your performance. Thanks for making such a difference to the campers! 
Nate Hall 

I liked your performance at Gere library 
Logan, Student, Gere Library, Lincoln, NE 

Thanks so much for the amazing workshop at UCHA last weekend! I had a blast! You have an amazing gift. 
Ashley Simpson, Student, Universal College of Healing Arts 
Michael I really enjoyed your performance at the school on Saturday. It was very interesting and fun! You have a very given talent, and thank you for sharing it with us. I used to play a little organ back in high school. I love your music. 
Jerry Otte, Student, Universal College of Healing Arts 
I think you did really good at Bennington Elementary School.  Thank you for coming and playing your music. 
Sarah, Bennington Elementary School 

Hello Michael! I love your music! Thank you for sharing it in the world! 
Heidi Gates, Omaha, NE 

Hello, My name is Charles and one of the things I do is volunteer on the World Day on the Mall event planning committee. I just wanted to say that I love your website, I think your music is fantastic, and I am very happy that you've taken time to be a part of our celebration. Thank you. 
Charles Roberson, Volunteer, World Day on the Mall, Lincoln, NE 
You did a fantastic job with the kids today. They loved the show. Thank you! 
Kathy Jurey, Teacher, Arlington Elementary School, Arlington, NE 
Just getting around to visiting your website after your performance and drum circle at UCHA. You are a very dynamic performer, and I can tell you LOVE what you DO! It seems to me that your music inspires people and takes them to that peaceful place in their mind. 
Sonja, Student, Universal College of Healing Arts, Omaha, NE 
Our students thoroughly enjoyed your concert today at Wood River Elementary. What a great job! When my 2nd graders came to music afterwards they had a question, Where is the whistle you played for them from? Thanks. 
Marilyn Geweck, Wood River Elementary School, Wood River, NE 
Absolutely loved hearing you at UCHA. Thank you for making the time to be there! 
A superb feast for the ear and spirit...and imagination! 
Vic Faesser, Pawnee County Arts Council 
Michael is able to use his many talents to inspire and connect his audience. His enthusiasm in the music and it's many messages is contagious, which makes for a very dynamic and entertaining evening. 
Deirdre Fay, Assistant Professor of Music, Bismarck State College, Bismarck, SD 
The recent performance and demonstration on the art of percussion was a HUGE hit. It was a treat to see so many smiles, and it was touching to witness the group share the common bond of music. [Michael] inspired us to start our own drum circles, and we hope he can join us again soon. 
Jon Pearson and the Recreation Department, Quality Living, Inc., Omaha, NE 
I met with my colleagues yesterday and as we discussed plans for the year, we all agreed that your performance affected us in a profound way. Two of us felt resolution and release in regards to some powerful emotions. We will be asking you back. Thank you.  
Mo McAndrews, Hospice Volunteer Appreciation, Omaha, NE 
Hi! I am 12 yrs. old, and today you came to my middle school and played for our anti-bullying assembly. You were SO good! My favorite part was the Hang drums. They sound SO COOL!! You are very talented!! Thank you so much for visiting our school! 
Darcy, Student, Sabetha, Kansas 
You played at Dodge school! It was really fun!!!Thank you for preforming for us! It was the best time of my life. 
Kaylea, Student, Dodge Elementary, Beatrice, NE 
I love your music its the best. Make more music. 
Cole Preister 
Dear,Michael Thank you for visiting us at the South Omaha Public library.I love your Music and my mom loves your music too. I hope that I meet you again. 
Enrique, Student Participant 
I go to St. Boniface school. I am in 5th grade and I think you are great. 
Marie, Student, St. Boniface Elementary School, Elgin, NE
My colleagues and I had a terrific time attending your performance/workshop at Carol Joy Holling Retreat Center last month!  I maintain a blog about things associated with my work at Bellevue Public Library. I have finally published my post about you. http://storiesrhymesandsingalongtimes.blogspot.com/2014/10/getting-to-knowmichael-fitzsimmons.html.  Thank you, Michael! 
Alice Boeckman, Librarian, Bellevue Public Library, Bellevue, NE 
I still can't thank you enough for gracing camp with your music. It is the most freeing music I've ever heard in my life. I look forward to seeing you perform back out at camp next summer. 
June Endrulat, Camp Leader 
Hey, you came to our teen night tonight, and it was really cool, just wanted to say thanks, I really enjoyed it! :) 
Anna, Teddy Bear Hollow workshop participant 
I still can't thank you enough for gracing camp with your music. It is the most freeing music I've ever heard in my life. I look forward to seeing you perform back out at camp next summer. 
June Endrulat 
Thank you so much for sharing your music with us at Universal College of Healing Arts. That was soooo much fun. I really enjoyed you teaching us how to play some song games. It was so enjoyable. I noticed everyone had a smile on their face...that was wonderful !!! 
Leesa, Student, Universal College of Healing Arts 
I thoroughly enjoyed your performance this morning at Bloomer Elementary in Council Bluffs, IA. You have an amazing talent! 
Julie Danker, Teacher, Bloomer Elementary School, Council Bluffs, IA 
I had so much fun today when you came to the school. It was a blast!!! I never knew that I had all of that in me. Thank you so much for everything...It was amazing!!! 
Roy Paden, Student, Universal College of Healing Arts, Omaha, NE 
My kids were in the group at Gilder today. Thank you so much for coming out and helping the kids. I know that they all really enjoyed it! 
Shannon Maggio, Parent 

Just wanted to say Thank You again for coming to Dana College today and giving the demonstration of the percussion instruments! I thoroughly enjoyed it!! Thanks again! 
Megan Reppert, Student, Dana College 

Michael, I had the pleasure of hearing you play last year at my Doane World Music class. I had Kit again this year for another class and your name came up. My sister and I both have gotten djembes, and we were both wondering if you planned on being in the Lincoln area anytime soon, we would love to hear from you again. 
Lynn Hartzell, Student, Doane College, Lincoln Campus 

Michael's workshop at the 2014 Omaha Young Professionals Summit was wildly successful!  Everyone was talking about it. 
Sara Tucker, Chairwoman, Omaha Young Professionals 

Hey, this is Tim.  Thanks again for comming to camp this week and showing us your true gift that God has given you and how you use it to help people just truely relax.  Thanks again, I really enjoyed the program. 
Tim, Camp Carol Joy Holling Summer Camps, Ashland, NE 

I just think you are so inspiring. You are so amazing sir. I am teaching myself how to play the drums. Music is all around you all you have to do is listen. 
Elizabeth,  Student 

Your performance was wonderful. Thank you for sharing your time and talent. 
Shawna, Student, Doane College 
Thank you so much for coming to Doane Lincoln campus Thursday night. I so enjoyed listening and watching you play. When you play you become one with your music. It was a joy to see that. Thank you for helping us make our drums. I am looking forward to the remainder of Kit's class and playing in the drum circle. Thank you again. It truely was a wonderful expirence last night. 
Terri Knoell, Student, Doane College 

Hello Michael, I really enjoyed your performance Thursday evening at Doane Lincoln. Thanks for taking the time to educate our classes. The drum circle was such a great experience. Thanks again.  
Megan, Student, Doane College 

Hello Mr. Fitsimmons. I was at the workshop that you did at Camp Carol Joy Holling earlier this week. I visited your website and I think what you do is really neat. 
Elsa, Student, Camp Carol Joy Holling Youth Summer Camp, Ashland, NE 

I saw you perform your music at my school today and I could not wait to tell my mom about your music. I really enjoyed your music. Thank you for playing at my school. 
Quadlin, Student 

I loved the time that you took teaching me about the drums and rhythm. 
Michaela Wheatley, Student 
"Michael was wonderful!  He entertained, encouraged and inspired our group of mixed ages from babies to grandparents.  The enormous smiles on the faces of the kids playing the drums lit up the room." 
Nancy Chmiel  |  Youth Services Librarian 
I attended both of my childrens classes at St. Boniface Elgin, Nebraska. It was fun, and nice to see parents involved. Thank you. 
Jolene Knievel, Parent, St. Boniface, Elgin, NE 
Thanks for coming to Albion and working with our fourth graders. They have truly enjoyed having you here! 
Deb Figgner 4th Grade Teacher Boone Central Schools 
My class looked at your website today and we have been listening to your music. It sounds so wonderful! All of the students are writing letters to you, and we will mail them all together to you address. We are going to decorate our drum sticks next week, using dye and tape. We had so much fun learning about percussion instruments.  
Ellene McClay, Teacher, Gilder Elementary School, Omaha, NE 
I attended the wonderful program at Paddock Lane School in Beatrice, NE today. It was such a joy to see how much the children enjoyed playing with you as well as how the other children and us young at heart enjoyed listening. I have a granddaughter, Kennedy, in the fourth grade that enjoyed having you spend the week at her school. Paddock Lane is privleged to have a wonderful music teacher and this was a great way to share another form of music. Thank you for sharing your wonderful talent and making it so much fun. 
Linda Lawler, Grandparent, Paddock Lane Elementary, Beatrice, NE 
You've done an awesome job with the students here at Paddock Lane Elememtary School. We are so happy to have you here. Thanks for everything that you do for our students. 
Sarah Lefferdink, Teacher, Paddock Lane Elementary School, Beatrice, NE 
This multicultural performance is a must see for audiences of all ages. 
Bill Pullen, former Assistant Principal of Minne Lusa Elementary School, Omaha, NE. 
Very impressive, unbelievable performance! To hold the attention of 750 students for an hour takes a remarkable talent! 
Kris Vodehnal, Teacher, Human Elementary, Lincoln, NE 
Thanks for coming to Albion and working with our fourth graders. They have truly enjoyed having you here! 
Deb Figgner 4th Grade Teacher Boone Central Schools 
Michael came and presented to our school K-12. We have had many assemblies, and in terms of across the board interest and participation, this was the best. Michael was wonderful as both a musician and presenter. I would highly recommend Michael and his presentation to any level of students. 
Scott "Hoagie" Carmichael, K-12 Principal, St. Francis Schools 
 
Hi: I missed the Sunday public performance, so I slipped in on Monday morning. Your musical talents are obvious, but I appreciated even more the generosity and inclusion of the kids. Very nicely done. Thanks. 
Robert Grace, Attendee, St. Francis Elementary School, Humphrey, NE 
You probaly remember me because I'm a 4th grader and you worked with my class Mrs.Boes at Bloomer and you are really talented and you are just amazing!!!!!!!!!!!!!!! :) 
Moriah, Bloomer Elementary Student 
Hi, my name is Cloe and I go to Cedar School. Thanks for coming and teaching us how to play all the different instruments!!!!!!!!!!!!!!!!!!!!!!!!!!!!! 
Cloe, Student, Cedar Elementary, Beatrice, NE 
You went to Cedar School in Beatrice.  I'm in the 4grade in Mrs. Jurgens class I had the best time with you and your music is the BEST EVER :) 
Cameron, Student, Cedar Elementary, Beatrice, NE 
Hey Michael, I am getting even more intristed in music ever since you came to Stoddard for arts and residence and I am making my own instruments.  So far i've made six drums and this new instruments I call the Fitzsimmons yong so thx again. P.S I love the hang. 
Preston, Student, Stoddard Elementary School, Beatrice, NE 
All of your music is great it makes me realex and I like your stories.  Your Music is Really Great!!! :) :) 
Mohammad, Student 
Hey, thanks again for coming to St. Edward and letting us make drums - it was a great time!!! 
Maria, Student, St. Edward Elementary School, St. Edward, NE 
Hi, my name is Cloe and I go to Cedar school. Thanks for coming and teaching us how to play all the different instruments!!!!!!!!!!!!!!!!!!!!!!!!!!!!! 
Cloe, Sutdent, Cedar Elementary School, Beatrice, NE 
You went to Cedar School in Beatrice.  I'm in the 4grade in Mrs. Jurgens class.  I had the best time with you and your music is the BEST EVER :) 
Cameron, Student, Cedar Elementary School, Beatrice, NE   
Hi Michael. You came to my school today to teach us about music. The school was Lincoln Elementary in Beatrice N.E. We are all Very thankfull you game. Even my older sister in the middle school wished that she couldve been there. I'm glad you came to my school. Thanks. 
Colten, Student, Lincoln Elementary School, Beatrice, NE   
I thought that was some of the coolest things ever!!! 
Dylan, Student 
You played at our school! Dodge school! It was really fun!!!Thank you for preforming for us! It was the best time of my life. 
Kaylea, Student, Dodge Elementary, Beatrice, NE 
Hey I go to Dodge, in 4th grade.  I what to tell you that I loved to play with the things that you brought. I hope that you can come again. Thank you for coming to Dodge. 
Brooke, Student, Dodge Elementary School, Omaha, NE
God bless you, brother! Wish I could be in Omaha for the next show. This music is beautiful! Blessings, Omprakash (Paul) Connor, Omaha, NE

I enjoyed watching the musical and intuitive chemistry your trio has enormously last night. It was a pleasure being part of an audience that was brought into the music making in so many great ways. 
Hal France, KANEKO, Omaha, NE
We thoroughly enjoyed Michael's concert at our house, and our guests did too!  His music provided just the right backdrop for a festive celebration of family and friends. We recommend his concerts to everyone who is looking for a novel, engaging evening at his/her home. 
Tom & Evelyn McKnight, Fremont, NE 

Michael, Thanks for a wonderful evening drumming. It was the perfect activity for a home party. Everyone was engaged and joyful. The rhythm speaks to the soul, and unites all in attendance. 
Janis Opperman, Omaha, NE
My son just attended camp with you & he loved it. I'm enjoying the sound of the drum beating thru my house! 
Krista, Parent of Participant
Partial list of past presenters
INTERNATIONAL
ITALY
JFC AIR FORCE BASE 
ROME CATHOLIC CHURCHES 
SIENA CATHOLIC CHURCHES
USA
JACKSON PUBLIC SCHOOLS, JACKSON WY 
LEARN 2 LIVE GREEN, PLANO, TX 
FAMILY CHILD CARE ASSOCIATION OF NEW YORK STATE, SARASOTA, NY
CHILD CARE COORDINATING COUNCIL OF THE NORTH COUNTRY, PLATTSBURGH, NY
FAMILY CHILD CARE WORKERS, HUDSON FALLS, NY
MCAULIFFE ELEMENTARY, HIGHLAND VILLAGE, TX 
NORTHPARK ELEMENTARY, ROCK SPRINGS, WY 
OVERLAND, ROCK SPRINGS, WY 
TETON WELLNESS FESTIVAL, JACKSON, WY 
WESTERN WYOMING COMMUNITY COLLEGE, ROCK SPRINGS, WY
REGIONAL
BISMARCK STATE COLLEGE, BISMARK, SD 
BLOOMER ELEMENTARY, COUNCIL BLUFFS, IA 
BOONE SCHOOLS, BOONE, IA 
CEDAR FALLS PUBLIC LIBRARY, CEDAR FALLS, IA 
COUNCIL BLUFFS PUBLIC LIBRARY, COUNCIL BLUFFS, IA 
FIRST NIGHT, COUNCIL BLUFFS, IA 
SABETHA PUBLIC SCHOOLS, SABETHA, KS 
SHARON SPRINGS SCHOOLS, SHARON SPRINGS, KS 
SIOUX FALLS ARENA, SIOUX FALLS, SD 
VODEC, COUNCIL BLUFFS, IA
NEBRASKA 
AINSWORTH ELEMENTARY, AINSWORTH, NE 
ALEGENT CREIGHTON HEALTH, OMAHA, NE 
ALEGENT HOSPICE, OMAHA, NE 
ARBOR LODGE, NEBRASKA CITY, NE 
ARLINGTON ELEMENTARY, ARLINGTON, NE 
ARTS ARE BASIC, LINCOLN, NE 
ATKINSON ELEMENTARY, ATKINSON, NE 
ATKINSON-STEWART ARTS COUNCIL, ATKINSON, NE 
AUGUSTANA LUTHERAN CHURCH, OMAHA, NE 
AVERY ELEMENTARY, BELLEVUE, NE 
BANCROFT ELEMENTARY, OMAHA, NE 
BEALS ELEMENTARY, OMAHA, NE 
BEATTIE ELEMENTARY, LINCOLN, NE 
BELLEVUE UNIVERSITY, BELLEVUE, NE 
BEMIS CENTER FOR CONTEMPORARY ARTS, OMAHA, NE  
BENNETT MARTIN LIBRARY, LINCOLN, NE 
BENNINGTON ELEMENTARY, BENNINGTON, NE 
BENSON LIBRARY, OMAHA, NE 
BERGAN MERCY HOSPITAL, OMAHA, NE 
BEVERIDGE MIDDLE SCHOOL, OMAHA, NE 
BOY'S AND GIRL'S CLUB, OMAHA, NE 
BOYSTOWN HEARING INSTITUTE, OMAHA, NE 
BROKEN BOW SCHOOL, BROKEN BOW, NE 
BROOKSTONE VILLAGE, OMAHA, NE 
BRYAN ELEMENTARY, OMAHA, NE 
CALVERT ELEMENTARY, LINCOLN, NE 
CAMP HOPE, OMAHA, NE 
CATLIN MAGNET CENTER, OMAHA, NE 
CELEBRATE WOOD RIVER, WOOD RIVER, NE 
CENTERING CORPORATION, OMAHA, NE 
CENTRAL PARK ELEMENTARY, OMAHA, NE 
CHERRY COUNTY SCHOOLS, CHERRY COUNTY, NE 
CHILDREN'S MUSEUM, OMAHA, NE 
CHRIST THE KING CHURCH, OMAHA, NE 
CHRIST THE KING SCHOOL, OMAHA, NE 
CLARKSON COLLEGE, OMAHA, NE 
CLINTON ELEMENTARY SCHOOL, LINCOLN, NE 
COLLEGE OF ST. MARY, OMAHA, NE 
COLUMBUS PUBLIC SCHOOLS, COLUMBUS, NE 
COMPLETELY KIDS, OMAHA, NE 
COOPER VILLAGE HOME FOR BOYS, OMAHA, NE  
CREIGHTON UNIVERSITY MED STUDENTS, OMAHA, NE 
CREIGHTON UNIVERSITY, OMAHA, NE 
CRETE PUBLIC LIBRARY, CRETE, NE 
CULLER MIDDLE SCHOOL, LINCOLN, NE 
DANA COLLEGE, BLAIR, NE 
DAWES ELEMENTARY SCHOOL, LINCOLN, NE 
DOANE COLLEGE, LINCOLN, NE 
DODGE ELEMENTARY, GRAND ISLAND, NE 
DRUMMING WITH DADS, OMAHA, NE 
DUNDEE ELEMENTARY, OMAHA, NE 
EASTERN NEBRASKA LIBRARY SYSTEMS, OMAHA, NE 
EDUCARE, OMAHA, NE 
EISELEY LIBRARY, LINCOLN, NE 
ELLIOTT ELEMENTARY, LINCOLN, NE 
EMMY GIFFORD CHILDREN'S THEATRE, OMAHA, NE 
ENCOR, OMAHA, NE 
EZRA MILLARD ELEMENTARY SCHOOL, OMAHA, NE 
FIELD CLUB ELEMENTARY, OMAHA, NE 
FIRST LUTHERAN CHURCH, LINCOLN, NE 
FIRST PLYMOUTH CONGREGATIONAL CHURCH, LINCOLN, NE 
FIRST PLYMOUTH PRESCHOOL, LINCOLN, NE 
FLORENCE LIBRARY, OMAHA, NE 
FLORENCE LIBRARY, OMAHA, NE 
FRANKLIN ELEMENTARY, OMAHA, NE 
FRIEND PUBLIC SCHOOLS, FRIEND, NE 
GENEVA PUBLIC SCHOOLS, GRETNA, NE 
GERE LIBRARY, LINCOLN, NE 
GILDER ELEMENTARY, BELLEVUE, NE 
GIRL SCOUTS OF NEBRASKA, OMAHA, NE 
GOMEZ ELEMENTARY, OMAHA, NE 
GOODRICH ELEMENTARY, LINCOLN, NE 
GRACE LUTHERAN CHURCH, LINCOLN, NE 
GRAND ISLAND PUBLIC SCHOOLS, GRAND ISLAND, NE 
GRANT ELEMENTARY, FREMONT, NE 
GREATER OMAHA YOUNG PROFESSIONALS SUMMIT, OMAHA, NE 
HARTINGTON ELEMENTARY SCHOOL, LINCOLN, NE 
HEBRON ELEMENTARY, HEBRON, NE 
HILLRISE ELEMENTARY, ELKHORN, NE 
HOLLAND PERFORMING ARTS CENTER, OMAHA, NE 
HOLMES ELEMENTARY, LINCOLN, NE 
HOLY CROSS CATHOLIC CHURCH, OMAHA, NE 
HOLY CROSS LUTHERAN CHURCH, OMAHA, NE 
HOLY NAME SCHOOL, OMAHA, NE 
HOSPICE CARE, OMAHA, NE 
HOUSE OF HOPE, OMAHA, NE 
HOUSE OF HOPE, OMAHA, NE 
HUMAN ELEMENTARY, LINCOLN, NE 
HUNTINGTON ELEMENTARY SCHOOL, LINCOLN, NE 
ICAN WOMEN'S LEADERSHIP CONFERENCE, OMAHA, NE 
IMMANUEL HOSPITAL, OMAHA, NE 
JEFFERSON ELEMENTARY, OMAHA, NE 
JEWISH COMMUNITY CENTER, OMAHA, NE 
JOSLYN ART MUSEUM, OMAHA, NE 
KANEKO, OMAHA, NE 
KEENE MEMORIAL LIBRARY, FREMONT, NE 
KING ELEMENTARY, OMAHA, NE 
KOUNTZE MEMORIAL LUTHERAN CHURCH, OMAHA, NE 
LAKESIDE HOSPITAL, OMAHA, NE 
LAKEVIEW ELEMENTARY, LINCOLN, NE 
LEMAY ELEMENTARY, BELLEVUE, NE 
LIBERTY SCHOOL, OMAHA, NE 
LINCOLN ELEMENTARY, BEATRICE, NE 
LINCOLN NORTH STAR HIGH SCHOOL, LINCOLN, NE 
LINCOLN UNITARIAN CHURCH, LINCOLN, NE 
LOTHROP ELEMENTARY, OMAHA, NE 
LOTHROP MAGNET SCHOOL, OMAHA, NE 
LUX MIDDLE SCHOOL, LINCOLN, NE 
MARION HIGH SCHOOL, OMAHA, NE 
MARTIN LUTHER KING JR. ELEMENTARY, OMAHA, NE 
MCCOOK ELEMENTARY, MC COOK, NE 
MCPHEE ELEMENTARY, LINCOLN, NE 
MEADOWLARK ELEMENTARY, KEARNEY, NE 
MERRYMAN PERFORMING ARTS CENTER, KEARNEY, NE 
MICKLE ELEMENTARY SCHOOL, LINCOLN, NE 
MIDTOWN CROSSING, OMAHA, NE 
MILLARD LIBRARY, OMAHA, NE 
MILLARD WEST HIGH SCHOOL, OMAHA, NE 
MILLER PARK ELEMENTARY, OMAHA, NE 
MINNE LUSA ELEMENTARY, OMAHA, NE 
MONRO MEYER, OMAHA, NE 
MONTCLAIR ELEMENTARY, OMAHA, NE 
MONTESSORI SCHOOL, OMAHA, NE 
MORLEY ELEMENTARY, OMAHA, NE 
MOUNT VIEW ELEMENTARY, OMAHA, NE 
NATIONAL ASSOCIATION OF TRANSLATORS AND INTERPRETERS, BELLEVUE, NE 
NEBRASKA LUTHERAN OUTDOOR MINISTRIES, ASHLAND, NE 
NEBRASKA METHODIST COLLEGE, OMAHA, NE 
NEBRASKA STORYTELLING FESTIVAL, OMAHA, NE 
NEIHART SCHOOL, OMAHA, NE 
NORFOLK ARTS CENTER, NORFOLK, NE 
NORRIS MIDDLE SCHOOL, OMAHA, NE 
OAKDALE ELEMENTARY, OMAHA, NE 
OMAHA HENRY DOORLY ZOO, OMAHA, NE 
OMAHA PLAYHOUSE, OMAHA, NE 
OMHA CHILDREN'S MUSEUM, OMAHA, NE 
ORPHEUM THEATRE, OMAHA, NE 
PLATTSMOUTH MIDDLE SCHOOL, PLATTSMOUTH, NE 
POUND MIDDLE SCHOOL, LINCOLN, NE 
PRAIRIE WIND ELEMENTARY, OMAHA, NE 
QUALITY LIVING, OMAHA, NE 
RED CLOUD OPERA HOUSE, RED COULD, NE 
RESURRECTION EVANGELICAL LUTHERAN CHURCH, GRETNA, NE 
RIALTO THEATRE, FAIRMONT, NE 
ROSE HILL ELEMENTARY, OMAHA, NE 
ROUSSEAU ELEMENTARY, LINCOLN,NE 
RUTH HILL ELEMENTARY, OMAHA, NE 
SACRED HEART CHURCH, OMAHA, NE 
SANDOZ ELEMENTARY SCHOOL, LINCOLN, NE 
SARATOGA ELEMENTARY, OMAHA, NE 
SCOTTSBLUFF PUBLIC SCHOOL, SCOTTSBLUFF, NE 
SHELDON ART MUSEUM, LINCOLN, NE 
SIENN/ FRANCIS HOUSE, OMAHA, NE 
SKINNER MAGNET SCHOOL, OMAHA, NE 
SOUTH HIGH SCHOOL, OMAHA, NE 
SOUTH OMAHA LIBRARY, OMAHA, NE 
SOUTHWEST HIGH SCHOOL, LINCOLN, NE 
SOUTHWOOD LUTHERAN CHURCH, LINCOLN, NE 
SPRING LAKE ELEMENTARY, OMAHA, NE 
ST PETERS SCHOOL, LINCOLN, NE 
ST. BONIFACE ELEMENTARY, ELGIN, NE 
ST. CECILIA CATHEDRAL, OMAHA, NE 
ST. JAMES CATHOLIC CHURCH, OMAHA, NE 
ST. MARGARET MARY SCHOOL, OMAHA, NE 
ST. PETER AND PAUL SCHOOL, OMAHA, NE 
ST. THOMAS MOORE SCHOOL, OMAHA, NE 
STODDARD ELEMENTARY, BEATRICE, NE 
STRAWBERRY FIELDS, OMAHA, NE 
SUMP MEMORIAL LIBRARY, PAPILLION, NE, OMAHA, NE 
SWANSON LIBRARY, OMAHA, NE  
TED E. BEAR HOLLOW, OMAHA, NE 
THAYER CENTRAL ELEMENTARY, HEBRON, NE 
THE OLD SCHOOL HOUSE, AVOCA, NE 
TRINITY EARLY CHILDHOOD CENTER, FREMONT, NE 
UNITARIAN CHURCH, OMAHA, NE 
UNITED PRESBYTERIAN CHURCH, PAWNEE, NE 
UNITY CHURCH, OMAHA, NE 
UNITY CHURCH, OMAHA, NE 
UNIVERSAL COLLEGE OF HEALING ARTS, OMAHA, NE 
UNIVERSITY OF NEBRASKA MED CENTER, OMAHA, NE 
UTA HALEE-COOPER VILLAGE, OMAHA, NE 
VALENTINE PUBLIC SCHOOLS, VALENTINE, NE 
WALNUT GROVE RETIREMENT COMMUNITY, OMAHA, NE 
WALT LIBRARY, LINCOLN, NE 
WASHINGTON LIBRARY, OMAHA, NE 
WEST LINCOLN ELEMENTARY, LINCOLN, NE 
WESTERN HILLS, OMAHA, NE 
WESTMONT ELEMENTARY , OMAHA, NE 
WILBER PUBLIC SCHOOLS, WILBER, NE 
WILLA CATHER ELEMENTARY, OMAHA, NE 
WILLOWDALE ELEMENTARY, OMAHA, NE 
WOOD RIVER PUBLIC SCHOOLS, WOOD RIVER, NE 
WORLD DAY ON THE MALL, LINCOLN, NE 
YATES SCHOOL, OMAHA, NE 
ZION LUTHERAN CHURCH, OMAHA, NE